Mobile & Data
3 mobile
Get your three.co.uk deal here today!
Great Mobile and Internet Deals on the UK's Fastest Growing 3G Network
Over 90% of our customers are choosing smartphones and they're increasingly opting for our all-you-can-eat data plans. These plans give you the freedom to get the most out of your smartphone, without fear of how much it'll cost.
Smartphones are rapidly becoming the first port of call for accessing the internet for UK consumers. Over the past two years, internet use on mobile phones has grown dramatically. And as new users experience the benefits of all-you-can-eat data for the first time, they require more support from us.
We're here to help people discover all the benefits of the mobile internet. And by having a network designed for data – and by inspiring people to explore new things – we aim to take away any barriers that prevent our customers embracing it. We're also working hard to make it easier for customers to manage their accounts and their interactions with Three, by providing unique services that are made possible by our network and the mobile internet access it provides. 
Three strives to challenge and change the mobile industry for the benefit of consumers. When we entered the market in 2003, the environment in which we operated was very different. Prices were high and consumers had little choice but to pay extortionate prices for poor quality mobile internet on their phones and mobile data services.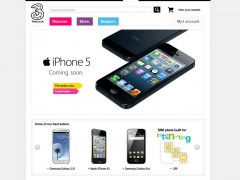 GO TO STORE >